Yea some people prefer plastic or aluminum pads but from a pure physics standpoint cloth has the better material properties for stopping acceleration so you can stop your mouse more precisely.
==Warning == I am an Engineer and the following is MATH, you know that stuff in school you hated
Friction before sliding = Coefficient of friction x Normal Force
Friction Coefficients
Teflon offers the lowest coefficient of friction (0.1 or less) (most mice have Teflon glides so you need a mouse pad with a high coefficient of friction
for proper use)(Works well with hard plastic, glass and metal pads)
Aluminum 0.61 (you need teflon for this or else it will eat your mouse and not glide well also if it's to smooth it can interfere with optic mice)
Wood 0.25–0.5 *(yea we all know your to cheap to buy a mouse pad)
Plastic ~ 0.35 varies with type
cloth higher coefficient of friction than other materials also less not as sleek or smooth so lower speed and more control which in my eyes makes it better
Slick vs. rough:
Newbies often fail to realize that smoother is not always better. You have to decide what you are most interested in: speed (smooth lower Coefficient of friction) or control (more texture, more surface area, Higher Coefficient of Friction). We hesitate to say rough, because a good mouse pad surface will never have a high coefficient of friction.
more math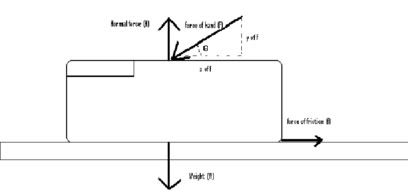 Moving a mouse around takes a lot of work.
When the computer mouse is just sitting on the mouse pad, the mouse has a weight (W) which produces a normal force (N). N = W.
When you actually place your hand on the mouse and move it, the system changes. Now the force of your hand (F) upon the mouse changes the system. The downward (y) component of your hand adds to the normal force when determining the force of friction. The mouse will move when the x component of F [Fcos(theta)] > the force of static friction (f) which is equal to µs(N + Fsin(theta)). Once the mouse begins moving Fcos(theta) only has to be greater than the kinetic force of friction, µk(N + Fsin(theta)).
You do work (W) equal to DFcos(theta). D is the distance the mouse travels. Any force in the y direction is wasted effort, so trying to keep theta close to 0 will help reduce the force that you need to apply by reducing wasted effort and by not adding to the force of friction that must be overcome. Every time you have to click and drag your mouse, you make your life just that much more difficult.
Also if you fail to understand science the price of cloth mouse pads is normally less than $15 vice the $30 dollar plastic and aluminum ones
_________________
Don't stop, PC! Don't let those ailing console machine devices hold you back.